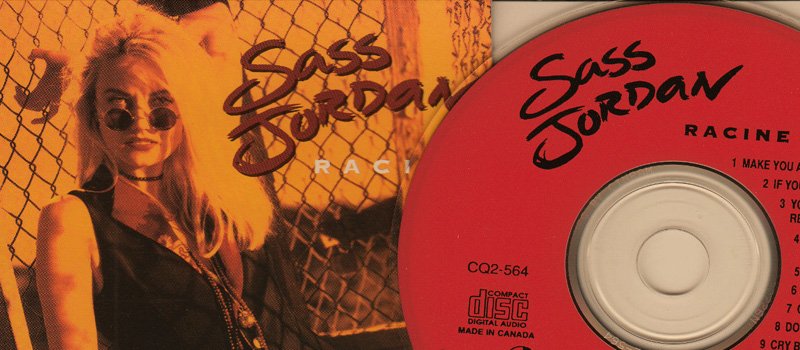 #RACINE25
#RACINE25 #RacineRevisited
Update – Sept 15th
Racine Revisited on CD and Vinyl is available now!
BUY THE ALBUM! https://sassjordan.store-08.com/racine-revisited/
Update – July 11
Very pleased to announce that 'Racine Revisited' will be released this Sept 15th on vinyl and CD!
You can pre-order it starting right NOW and receive a SIGNED copy: https://sassjordan.store-08.com/racine-revisited/
Update – June 23:
HE SKINNY ON RACINE REVISITED!! AND YES – IT WILL BE RELEASED ON VINYL!!!!!!
And now it's time to explain to Racine Fans what this whole "ReVisited" idea is about…
First of all, it's Racine's 25th birthday – a milestone for any musical recording that sold as much as it did. So, we decided to throw a year long celebration in it's honor, which gives all the fans a chance to connect and reminisce about where you were, what you were doing, and how far you've come since then.
Re-recording such a landmark album was not a venture that we took lightly, because once you release your music to the world, it becomes the emotional property of anyone who connects with it, and rightly so. I have personally heard from so many of you about what it meant and still means to you, and I am humbled and amazed yet again by the power of music to soothe the soul and fire up the engines! We wanted to be true to the original recording, but to do something we had never heard of before… and this is what we came up with, after talking to the birthday baby, Racine herself! Instead of doing the obvious, and updating the vibe, bringing it up to the sound of today's recordings, and making it all shiny, sparkly, hissy and huge – why don't we recreate the record as if we were IN the '70's, and try to make it sound like it would have if it had been recorded during that seminal decade – where the original recording drew its roots from? What would THAT be like?
With that as the template, I decided to hand pick the best musicians for the job, people who respected and revered the original recording yet were able to deliver something that stayed true to it but also add additional depth and historical accuracy. Rudy Sarzo on bass, Brent Fitz on drums and percussion, Chris Caddell on guitars and Derek Sharp on guitars, keyboards and production duty, were the combo that made sense for this delicate undertaking. Racine was reborn living and working together at the fabulous OCL Studios in Calgary, Canada, and not one note was tampered with in the fashion of today. What you hear is what happened – no click tracks and no auto-tune. This record was made with great care and precision in order to be played LOUD and PROUD!!!!
And that, dear fans, is exactly how it went down. So, what we are dealing with is an authentic throwback, a delicious dive into what was and what will never be again, complete with the family atmosphere it was recorded in, specifically designed to make our hearts and souls sing, and to bring us all closer together again, if just for a few minutes. After all, we're all in this together.
Love, Sass
March 31st, 2017
'Racine' was released on this exact day in 1992… 25 years ago.
Time Flies.
To celebrate the anniversary and this album, we are dedicating the year 2017 to 'Racine' and will have many exciting announcements to make in the coming weeks and months. There will be a re-release of this album… and tour dates… and merchandise… and who knows what else… we're going to have fun with it and we will be encouraging you to as well… please share stories, and photos, and ticket stubs.
It was an exciting time… and there will be more exciting times to come.
So raise a glass – here's to 'Racine' being 25 years old and here's to life.
"I was living in Los Angeles, a place I'd dreamed of since my first encounter with the notion that it existed. It was where they made the Partridge Family tv show, and that show was the genesis of my plan to grow up and be a rock star, traveling everywhere, meeting people, making music… C'mon Get Happy!!!! This record was my coming of age, a real statement about how far I'd come, about some of the influences that had shaped me musically and a chance to craft some songs that I felt I could deliver with all my heart. Everyone around me, my manager, Lisa, the record companie(s), the radio people, my friends, fellow musicians – everyone was SUPER excited about this collection of songs. It was before AOR radio died, so the songs had a home, and it was before the record companies died, so there was still money to make something happen.
We went out to the Salton Sea to shoot the cover with a really expensive, popular photographer, but funnily enough, the shot we used could have come from anywhere! We had a whole team assembled, and we drove there in a bus together – I remember we talked about UFO's most of the ride, and the makeup artist on the shoot, Terri Apanasewicz, became a friend that I still have to this day. The huge amount of excitement that surrounded the release of this record was palpable, and I still remember Lisa saying 'we're gonna tour with a band called the Arc Angels – you're gonna love them!' It was an exciting time, and I worked non-stop the whole year, until I finally burnt out and went down for the count for a while. It took me a long time to learn how to preserve my own energy."
To be continued…
SJ